400 Packetts Landing
Fairport, NY 14450
(585) 223-9470
info@colonialbelle.com
Summary
Established in 1989, the Colonial Belle is a family owned and operated business. Her crew is experienced and friendly.
The Colonial Belle is the largest tour boat operating on the historic Erie Canal. Our vessel is U.S. Coast Guard certified to carry 149 passengers with a fully accessible enclosed lower deck and an upper open-air deck. The enclosed first deck offers comfortable seating, a full-service bar and two restrooms. The upper deck provides seating, scenic viewing and the experience of "ducking down" for low bridges.
They have a ramp for boarding of all passengers but is especially helpful for people using wheelchairs or with mobility challenges. The second floor upper deck requires stairs to access. The restrooms may prove to be a challenge for some. The crew works to accommodate a variety of passenger needs as able. Advanced notice of any accommodations needed is always encouraged.
Description
Scenic Cruise Company
Activities
A variety of cruises including dinner cruises, historic tours, themed cruises, private chartered cruises.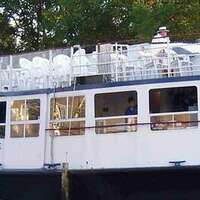 The Colonial Belle- Large white boat with lower enclosed deck and upper open deck on the Erie Canal. Smaller boat and trees in background.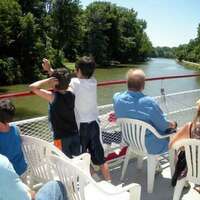 Two kids standing on the top deck of the boat watching the sights as they cruise along the Canal.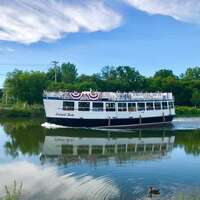 Colonial Belle on the Canal- white two-story tour boat in Canal with trees in background