12 Schoen Place
Pittsford, NY 14534
585.662.5748
sampatchbooth@gmail.com
Summary
From Website: "Enjoy an unforgettable adventure and the signature canal experience by navigating one of America's most famous historic routes with a 90-minute cruise aboard Corn Hill Navigation's replica canal packet boat, the Sam Patch.
Every cruise offers the opportunity to travel through a century-old canal lock, experience the captivating beauty of the canal and its surrounding environment, and watch for herons, eagles and other bird life, while our deckhands thrill you with a lively narrative of facts and anecdotes that illustrate the importance of this Eighth Wonder of the World on our nation's development."
The Sam Patch requires the use us stairs to board. Once on the boat, chairs and tables can be moved or spaced according to passenger needs. The boat is moored in a busy Canal side business district with small shops and restaurants. All have varying degrees of accessibility. The Sam Patch is deep cleaned weekly in addition to daily cleaning between cruises.
Corn Hill Navigation is very interested in making their boat and experiences as accessible and inclusive to all who wish to ride. They do understand that the present boat has many limitations for many people. They are in the process of building another boat that will have increased accessibility. They are as flexible in their programming on the boat for groups as possible. The staff are willing to discuss your individual needs and accommodate as possible.
Description
Educational And Recreational Boat Cruises On Erie Canal.
Activities
Historical boat tours of Erie Canal and Genesee River, bird watching cruises, themed cruises, private charters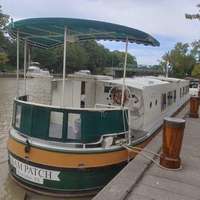 Sam Patch from the stern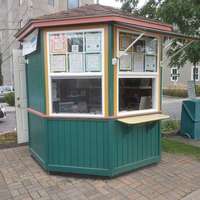 Ticket Booth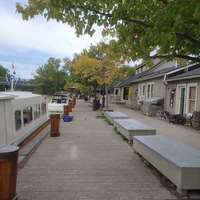 Dock with Sam Patch Moored