132 Market Street
Palmyra, NY 14522
315-597-6981
historicpalmyra@gmail.com
Summary
Historic Palmyra is a bustling step back into history. The street is lined with four businesses from and old bar/restaurant and hotel to the local general store with the Alling Coverlet Museum just across the way. It is a great place to spend the day. Pack a picnic and take a break in between Museums at the near by Canal Park. Tickets are sold for separate buildings or as a trail pass which grants entry into all five buildings. The Alling Coverlet Museum is always free. Buildings are old and accessibility is sometimes dictated by this. The Depot, built in the 1830's is the oldest of these buildings. Staff work hard to make as much of the museum accessible to all people as possible.
Description
Historic Palmyra™ Is A Non Profit, 501(C)(3) Organization Dedicated To Preserving The History And Architectural Heritage Of Palmyra, New York. Once Known As The "Queen Of Erie Canal Towns," Palmyra Boasts An Astonishing Array Of Architecture, Ranging From The Early 1800's To Victorian Era Grandeur.
Historic Palmyra's Mission Is To Save The History Of Palmyra And Vicinity Through The Preservation Of Architecture, Artifacts, And Archives. Historic Palmyra™ Teaches And Educates Through The Five Museums And Their Collections. This Mission Is Served Primarily Through The Operation Of Five Unique Museums, Welcoming Thousands Of Visitors Each Year.
Historic Palmyra Is Comprised Of Five Separate Buildings: The Palmyra Historic Museum, Erie Canal Depot, Phelps General Store, Print Shop And The Alling Coverlet Museum. The First Four Listed Are Located Together In A Row. The Coverlet Museum Is Located Across The Parking Lot (Must Do Stairs Or Park In The Upper Lot.)
Activities
Educational museums with interactive displays ghost tours, archeological digs, socials, facility rental and catering.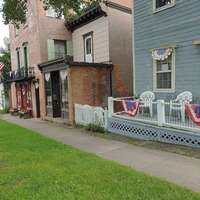 Street View of Historic Palmyra buildings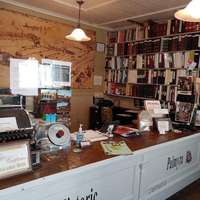 Historic Palmyra ticket counter inside the Palmyra Historic Museum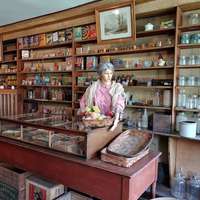 Meet Catherine the General Store Clerk