1142 Crystal Lane
Yadkinville, NC 27055
336-849-7909, ext.3
dvmoxley@yadkinnc.gov
Summary
Yadkin Memorial Park is located at the beautiful, human-made Lake Hampton in Yadkinville, North Carolina. Lake Hampton offers 140 acres of water surrounded on three sides by peaceful old growth forest. Fish, paddle, or relax on the water by kayak, canoe, or boat, and enjoy the beautiful scenery! Amenities include paved walking trail, playground, boating (non-gas powered), fishing, waterfowl hunting, boat ramps, including the Accessible EZ Lauch System for kayaks and canoes, 2 fishing piers, 2 picnic shelters with grills and accessible picnic tables, accessible restrooms, and ample parking.
Description
County Recreational Park
Activities
Paved walking trail, wooded (groomed) hiking trail, boating (non-powered), fishing, picnicking, nature photography, playground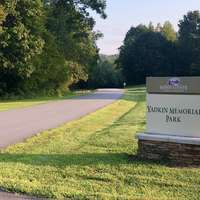 Entrance to park is paved and wide. There are some high, narrow speed bumps to encourage drivers to drive slowly.
The parking lot is unlined, and offers two designated, unlined but marked, accessible parking spaces with spacious access aisles.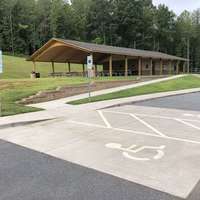 The path leading from accessible parking to the main entrance, restrooms, and large picnic shelter. The slope is gradual, and the turn at the top of route is unobstructed and wider than 60 inches.