5303 W Cameron Rd.
Cameron , NY 14819
585-226-5400
accessibility@dec.ny.gov
Summary
According to the agency website: The 1,990-acre Cameron State Forest includes Cameron Pond, two smaller ponds, a gas pipeline down the middle and a native grassland field near the southern end. Today, Cameron and all state forests in New York are managed for multiple benefits to serve the needs of the people of New York. Sustainable management practices will ensure a perpetual supply of timber, a diversity of wildlife habitats, compatible recreational opportunities and clean water.
This trail may be walked and there is a narrow 12" worn path from people doing so. It is meant to give access to people who benefit from using a motorized vehicle such as an ATV due to a disability. There is a much wider width for that with the gate to enter being 52." You must have a MAPPWD permit from the DEC to use this trail and to open the gate. You must have a separate permit to hunt, hunt from your vehicle, and for fishing. Several flat areas in the field are marked for camping. Common activities on the pond include fishing, ice fishing, birding, photography, enjoying nature in a very natural environment.
Description
Department Of Environmental Conservation Accessible Recreation Destination
Activities
Nature Observation, hunting, fishing, ice fishing, camping, MAPPWD Trail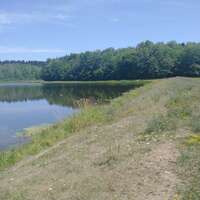 Cameron Pond as seen from the end of the MAPPWD Trail.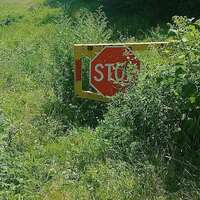 Trailhead gate for people utilizing the Motorized Access Path for People With Disabilities (MAPPWD) trail. Swing gate with stop sign leading to field with unmowed trail.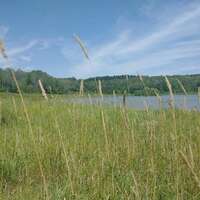 Cameron Lake with field in foreground and hills with trees behind the small lake.