14509 Minnetonka Dr.
Minnetonka, MN 55345
(952) 939-8364
kpimental@minnetonkamn.gov
Summary
The Williston Fitness Center is an all indoor multi-purpose fitness facility operated through a joint partnership of the City of Hopkins and Minnetonka Parks and Recreation programs. Facility use is offered through a membership program and extends its services to the residents of neighboring city of St. Louis Park as well. There is an aquatics room with a lap pool with pool lift access, kid's splash, and a hot tub. There is access to family locker room spaces, and separate men's and women's locker rooms. There is a fitness floor, meeting and activity rooms, studio fitness floor and lower-level gymnasium and kid's treehouse playground via elevator access.
Description
Parks And Recreation Fitness Center
Activities
Aquatics, fitness, gymnasium, kids and treehouse, tennis, batting cages, provides recreational space and class to the residents of the City of Minnetonka, Minnesota.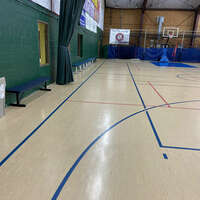 Gymnasium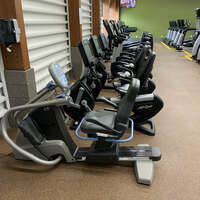 Nu Step on fitness floor
Inclusive shower/restroom in family locker room