11 Water Street
Brockport, NY 14420
(585) 637-1000
Summary
The Village of Brockport has been working with Rochester Accessible Adventure to obtain and install their new accessible kayak launch. Staff are excited to have one more way of being inclusive. The Welcome Center culture is to include all and that is evident by staff attitudes, work towards accessibility and thought put into new projects. The Welcome Center is a great starting point to discover the Brockport portion of the canal way.
Description
Welcome Center For Village Of Brockport Surrounded By Harvest Park Along The Erie Canal. Provides Information About Brockport And Its History And Tourist Attractions.
Activities
Brockport Welcome Center, "The Brockport Welcome Center features two accessible restrooms with showers, a coin operated laundry, an information room and lounge with cable television, computer, printer and free Wi-Fi. Eleven pedestals can accommodate a total of twenty one tie-ups with dockside water and electric. Cyclists can tent camp overnight near the picnic tables and grills. The Erie Canal's first Board Safe Accessible Dock/Launch accommodates kayaks, canoes & paddle boards. A Fixit Bike Repair Station with a pump will help get bike enthusiasts back on the trail. An EV charge station is available to charge two vehicles at a time. Bikes are free to borrow. Our facility is staffed by community volunteers seven days a week mid-May until mid-October."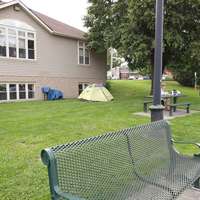 Camping and Picnicing at Harvester Park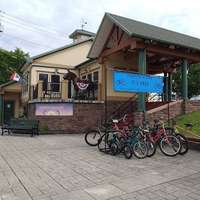 Free Bike Usage and Welcome Center Building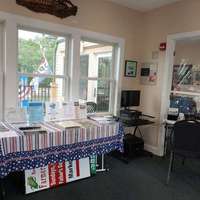 Welcome Center