3900 John Nagy Blvd.
Cleveland , OH 44144
(216) 664-3308
generalinfo@clevelandmetroparks.com
Summary
Brookeside Reservation is one of the many outdoor parks that are part of the Cleveland Metroparks. The 132-acre reservation serves as a refuge for diverse wildlife in an urban setting. It is also an attractive spot for area picnickers and a resting site for walkers, cyclists and others who use the All Purpose Trail. This reservation connects to Cleveland Metroparks Zoo.
This specific park is a public space free for anyone to visit. There are several baseball fields, a sand volleyball court, pavilions and grills for outdoor cooking, a playground, concession area, and trails to hike/walk. As you enter the park there is parking along the side of the street near the trails. Going further into the park, where everything else is located there are several accessible parking spaces. Even though the restrooms were temporarily closed due to COVID-19, there are temporary outdoor restrooms for use.
Description
Recreation/Outdoor Park.
Activities
Playground, baseball fields, volleyball court, pavilions, hiking/walking trails.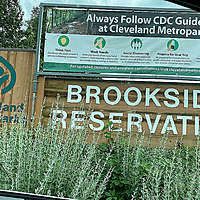 Entrance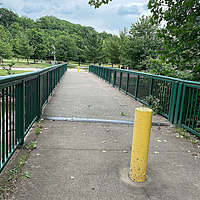 Bridge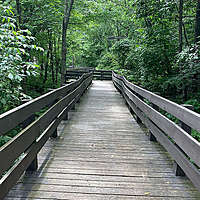 Trail