Newcomb Lake Rd
Newcomb, NY 12852
(518) 834-9328
santanoni@aarch.org
Summary
The Camp Santanoni Historic Area is an open place with a unique opportunity for recreation. The property consists of 3 major complexes, and a variety of trails. Starting from the first main complex (the gate house complex), the Newcomb Lake Road trail goes on for about 4.7 miles. Along the trail, there is the Farm Complex and a few other trails branching off to other locations outside of the Santanoni Preserve. At the end of the Newcomb Lake Road trail, is the Main Complex. The Main Complex is one of the many Great Camp complexes. Many are privately owned, but this camp is luckily open for the public to use. There are 7 primitive camping sites around the Main Complex.
Overall, you can go:
Hiking
Biking
Cross-Country Skiing / Snowshoeing
Fishing
Camping (first come, first serve basis)
Horse-drawn carriage rides are available, along with an interpretive tour provided by history interns.
For Accessibility, there are two accessible parking spots, in the parking area but closest to the trail head. There are two accessible bathrooms located by the parking area, and up at the Main Complex.
There are accommodations for carriage rides for those with physical differences. The hiking paths are at a low elevation, and are gravel. The Main Complex has ramps and wide porches for wheelchair accessibility.
Description
A Historic, Public Park.
Activities
Hiking, fishing, picnicking, camping, biking, cross country skiing, snowshoeing, horse-drawn carriage rides, and historical interpretive tours.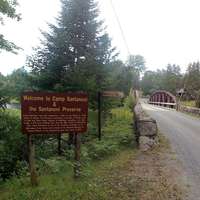 Entrance to Camp Santanoni, the Gate Lodge Complex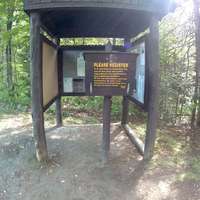 Trail Head Sign-in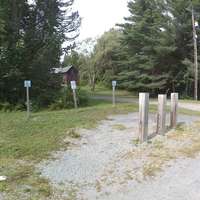 Accessible Parking Spaces