75 Mountain Laurel Ln
Cold Spring, NY 10516
(845) 265-3773
Summary
According to the agency website:
"The Taconic Outdoor Education Center (TOEC) supports a variety of year-round day and overnight educational, team building and business programs:
Environmental Education
Conservation Camps
Team Building Rope Course
Scout Badge Programs
Outdoor Family Nature Events
Maple Sugaring
Business meetings
Field Trip Activities
TOEC welcomes ALL visitors, including colleges, elementary to high schools, scout troops, youth groups and clubs. Highland Lodge, with a wood-burning stone fireplace, colorful nature displays, comfortable woodland cabins, friendly service, excellent meals and knowledgeable educators is a perfect fit for these activities. Some visitors stay overnight, while others visit for a day. Center staff also visit schools and provide lessons in classrooms.
After the first snowfall, our full-service cross country ski and snowshoe programs swing into operation at Fahnestock Winter Park. At the Center in late winter, our Hudson Valley Maple Farm starts producing syrup from the Sugar Maple grove.
Through the year, public programs celebrate the seasons. These include the annual Cross Country Ski Swap Sale in November, Winterfest in January, Sap to Syrup in March, and Mountain Laurel Outdoor Rec Fest in May. TOEC is located an hour and half north of New York City by car or Metro North to nearby Cold Spring.
Don't miss these popular attractions within TOEC:
Highland Lodge - A large stone fireplace, excellent meals, comfortable dining and rustic lounge provide a comfortable space for programs. Wifi is available.
Interactive Exhibits - Colorful displays help visitors learn about Fahnestock State Park's natural and historical resources.
Accommodations - Comfortable cabins are heated for all-season use and have an accessible bathroom with shower.
Nature Shop - We offer unique educational merchandise reflective of our programs.
Blueberry High/Low Adventure Ropes Course - Activity fosters group team building, problem solving and cooperation.
The Lakefront - Duck Pond offers opportunities for aquatic ecology, fishing, canoeing and ice skating.
Maple Leaf Sugar Grove - Surrounded by stone walls, this grove of Sugar Maples are tapped each year to collect sap for maple syrup production.
Sweet Tree Sugar Shack - Visit during the Sugaring season and see how sap in boiled down to make syrup.
Sorry, no pets"
Description
State Park Managed Outdoor Education Center
Activities
Picnicking, hiking, camping, group programs, outdoor education, interpretation, high ropes course, low ropes course, fishing, and boating.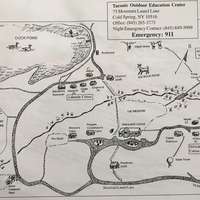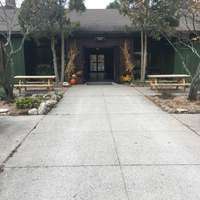 Main Pathway to Highland Lodge with picnic tables