Smith Park and Railroad St.
DeRuyter, NY 13052
315-443-9343
healthymonday@syr.edu
Summary
The DeRuyter Monday Mile is an asphalt track that encircles the DeRuyter Fairgrounds. It is a looped track that is 6 ft wide in most places. The track itself is half a mile around and signage indicates that you have to go around the track twice to complete the mile. The narrowest point on the track, which is 61 inches, is the dirt and packed gravel path that connects the accessible parking to the actual track. This portion of the route is about 10 feet in length. At the time of assessment the fairgrounds were closed so the dirt track was the only point of entrance. Otherwise the main gate to the fairgrounds can be used, which is a continuation of the parking lot and directly connects the Monday Mile to the parking with no change of surface. Due to the season, the restrooms on the fairgrounds were closed as well. The track is unobstructed along its entire length. There are small patches of loose gravel in some places, but in general it is smooth, flat and even. There is one sign on the actual track indicating that you are walking the Monday Mile. The other two signs are at the entrance of the fairgrounds indicating the start and finish of the Monday Mile. The start sign is visible as you approach the fairgrounds and it contains a map of the route. The finish sign is visible as you leave the fairgrounds. Map of the route and directions are also available on the agency website.
Link to Alltrails information about the trail, including trail elevation profile and other detailed information: https://www.alltrails.com/explore/recording/deruyter-fairgrounds-monday-mile
Description
No Description
Activities
Walking, running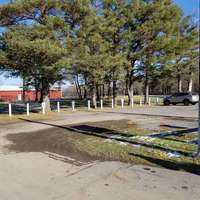 Entrance to DeRuyter Monday Mile Parking Lot, With Monday Mile Start Sign on the Right Side of the Image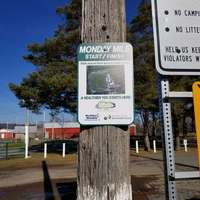 Monday Mile Start Sign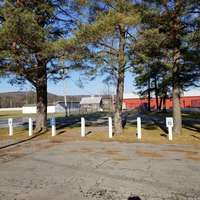 Parking Lot, With Spaces Marked for Accessible Parking, and Route from Parking to Monday Mile With Accessibility Signage