744 St. Ann's Avenue
Bronx, NY 10456
(917) 688-3030
stanns@blinkfitness.com
Summary
Blink Fitness - St. Ann's is a fitness center that promotes well-being, health and affordable fitness for all in the community. The staff and General Manager are very pleasant, friendly and extremely helpful in assisting people with navigating through the gym. The General Manager personally escorts and provides assistance to members who have disabilities, in navigating from equipment to equipment and the restroom located on the lower level that is accessible through an elevator. The equipment at the gym can easily be modified and usable to individuals with disabilities/illnesses. The gym is well-lit, bright and very spacious. The machines and equipment are placed with enough room that a person with a wheelchair and/or motorized chair can maneuver around easily. The gym hours are flexible, Monday thru Friday the hours of operation are from 5am-11pm and on Saturday and Sunday the hours are from 7am to 7pm.
Description
Gym For Training And Fitness
Activities
Strength training, weight training, resistance training, cardio, stretching, personal-fitness training, boot camp classes.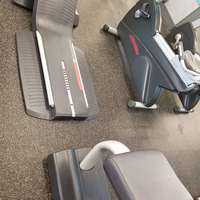 Arm cycle machine - Adaptive seat pulls out for a wheel chair.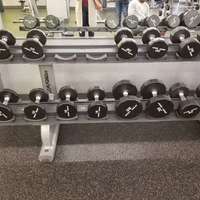 Weight racks - Upper and lower rack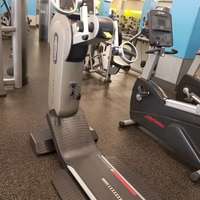 Arm Cycle machine