3 Thunder Road
Albany, NY 12205
518-218-7782
Summary
Colonie Family Recreation Center is located at 3 Thunder Road in Albany, directly behind Colonie Fire Department on Central Avenue. Colonie Recreation Center includes a full-size basketball court, entertainment room (ping pong, pool, air hockey, and foosball tables), and a computer room. Colonie Recreation Center is free for residents of the town of Colonie and the surrounding area. Hours of operation are Monday - Friday 8:30am - 6pm and 10am - 4pm on Saturdays.
Description
The Village Of Colonie Youth And Family Services Overseas The Family Recreation Center. The Family Recreation Center Is Open To The Public, Both Residents And Non Residents Of The Village Of Colonie. In Addition To The Family Recreation Center, Colonie's Youth And Family Services Also Manages And Cares For Outdoor Parks As Well.
Activities
Activities offered include but not limited to : Full-size basketball court, two pickle ball courts, billiards, table tennis, air hockey.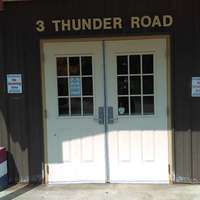 Main entrance