1851 South Dixie Drive
St. George, UT 84790
435-627-4500
leisure@sgcity.org
Summary
Designed as a dinosaur-themed park, its overall design will cater to all children and adults alike. There are many places to stay in the shade and beautiful gardens to walk around. The All Abilities Park and Playground is a unique and premier all-abilities parks , the cost to ride the train is minimal and the overall design is inclusive. The environment fosters socialization between people with disabilities and without disabilities. Staff are are valued members of the community that have an array of abilities and disabilities. The hope is that when children start interacting and spending time together, understanding and appreciation will take place. There is a wheelchair-accessible train, sandbox, and ways to interact, compete and play along side other children of all abilities. Service animals are welcome but pets are not.
The park wants everyone to feel included. The goal is to create a facility that breaks down as many barriers as possible, that makes it possible for people of all abilities to be able to participate. NOTE: Thunder Junction was still in construction at the time of this assessment.
Description
Public Park And Playground
Activities
2,700 foot railroad with a train that travels around the park, which also includes accessible cars.
A waterfall that the train goes under. A music garden, bridges, play space that offers accessible and sensory-rich equipment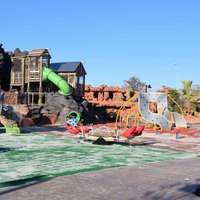 Picture of the overall park.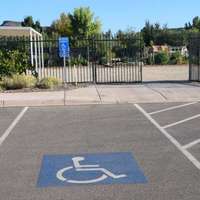 Parking Lot, Wheelchair Accesible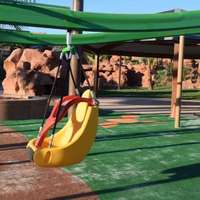 Specialty Equipment for individual using a wheelchair Zip-line, next to normal Zipline,