1740 Taughannock Blvd.
Trumansburg, NY 14886
(607) 387-6739
Summary
According to the agency website: "Taughannock Falls State Park's namesake waterfall is one of the outstanding natural attractions of the Northeast. Taughannock Falls plunges 215 feet past rocky cliffs that tower nearly 400 feet above the gorge. Gorge and rim trails offer spectacular views from above the falls and from below at the end of the gorge trail. Campsites and cabins overlook Cayuga Lake, with marina, boat launch and beach nearby. A multi-use trail--hiking, cross-country skiing--winds past sledding slopes and natural skating ponds. Boat Launch Site not suitable for any type of sailboat.
The park offers organized activities including tours through the Taughannock Gorge and summer concerts along the lakefront."
Description
State Park
Activities
Swimming, hiking, camping, cabins, picnic areas, winter activities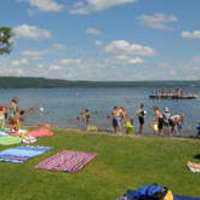 Beach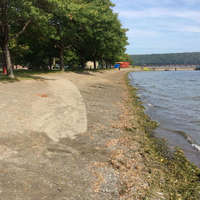 Access Route to Beach Area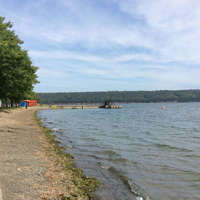 Fishing Pier