20 Arrowhead Rd
Pittsford, NY 14534
(585) 383-4590
ardesk@rochesterymca.org
Summary
Camp Arrowhead is an outdoor adventure camp setting that has been created to welcome all participants from the community. At every aspect, accessibility is recognized and encouraged. Staff for the camp are trained in making all activities inclusive based on needs. The different activities offered provide equipment necessary to make it inclusive. It is a great place to visit with family, attend camp at or utilize for group training. There are trails available, a pool, splash pad, picnic area, climbing tower, shelters to rent and a bounce pillow. Camps are available during the summer and school breaks. Home school takes place here on Wednesdays. Preschool program occurs during the year. Private booking can occur for group training.
Description
Ymca Camp Arrowhead Is A "Community Focused Nonprofit Established In 1844 With Recreational Programs & Services For All Ages".
Activities
YMCA Camp Arrowhead offers a day camp program during the summer. The camp is open for all children in preschool to 15 years of age. During camp children are able to swim, use the bounce pillow, practice archery, ride mountain bikes, climb the climbing tower, hike, participate in the low ropes course and attend special over nights. Camp Arrowhead is also open for group rental. Groups can come for team building activities arranged by YMCA staff. Birthday parties can also take place here. Camp Arrowhead also has multiple walking trails to utilize by the public. YMCA members can utilize the pool and bounce pillow throughout the warmer seasons. Special programming ran through the YMCA runs throughout the year and can be registered for through the southeast YMCA.
Deck area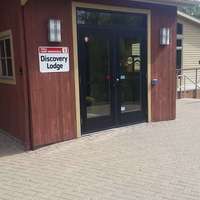 Discovery Lodge Entrance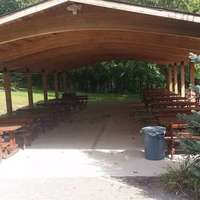 Picnic shelter