452 East Carmel Dr.
Carmel, IN 46032
317.815.5711
experiencematters@theurbanchalkboard.com
Summary
The Urban Chalkboard is a well planned and beautiful facility where any child and adult feels welcome. You are truly welcome to be you here. Co-founders Dr. Jessica Beer and Dr. Tonya Bergeson-Dana are very active at The Urban Chalkboard. You can often find them right down on the floor interacting with your child or reading a book to anyone who would like to join. They are truly passionate about their facility and the programs that they provide in their learning studio. Please feel welcome to call ahead to ask any questions about accessibility, adaptations, or modifications to make your time at The Urban Chalkboard a wonderful experience for you and your child!
Description
Learning Studio And Play Cafe (Ages: Birth To Around 8 Years Old)
Activities
Regularly scheduled activities include indoor play area, cafe, and learning studio. The learning studio accommodates various music (instrumental/vocal) and wellness classes. Check their website frequently as new types of classes are offered. On a quarterly schedule, "Chalk Talks" are held for parents on child development topics by an expert in the field who is currently doing active research. The Urban Chalkboard can be reserved for private events and birthday parties.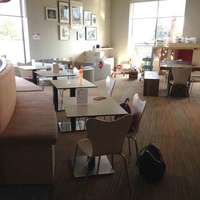 accessible cafe tables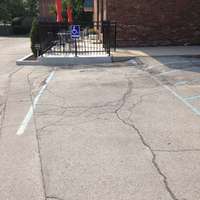 accessible parking space with access aisle
announcements and activity tube wall